Maldives and Dubai have been buzzing with business ever since they opened up. A lot of this business has been driven from India, and almost every Indian family who would want to travel "abroad" in these times, has been heading to the Maldives for a fill of their Instagram pictures, including celebrities and influencers. Maldives Resorts, hence, have been reportedly getting a regular feature on Instagram with these celebs.
The reason has been easy entry requirements to get into the Maldives. For one, flights are available directly from India to the Maldives, unless you are flying in your own private jet. The arrival guidelines are also pretty simple:
Tourists will be provided 30 days on arrival Tourist Visa at the airport (free for Indians). Tourists are not subjected to any quarantine measures upon entering to the Maldives. However, tourists must have hotel reservation confirmation to stay from a certified tourist facility in the Maldives.
All arriving passengers, including tourists and other visitors (travelling for short-term or official purposes and not subjected to 14 days quarantine), must present COVID-19 Negative PCR Test Result. The PCR result should be issued not more than 96 hours before departure, continuing the first port of embarkation reroutes to the Maldives. The document containing the result must clearly show the laboratory's name and address, the result, date of testing, and the issuing officer's name and signature.
Besides, you can hop around on various resorts once you have entered the Maldives. So, if you'd like to visit 2-3 resorts in one go, that is now possible. Here is a full update on Maldives' tourism initiatives and policies from when they opened post CoVid-19.
LiveFromALounge recently partnered with a Virtuoso luxury travel advisor to enable online bookings for our readers. Virtuoso empanelled travel advisors can offer some great perks at various luxury hotels worldwide. Last night I was comparing the Maldives resorts prices and was pleasantly surprised to find a bunch of great deals on booking with Virtuoso. The Maldives is expensive, so every penny saved helps you spend it for another experience such as a dive or snorkelling, or just a private dinner that you are planning.
Before I share my research findings, here's why you should consider booking with Classic Travel and getting a Virtuoso/preferred rate rather than booking via an OTA:
Our partnership offers you an online booking engine, so you can make your bookings and manage them too without human conversation if you wouldn't want to make any.
The prices are the same as published by the hotels.
Unlike an OTA booking, you can earn elite nights and hotel loyalty points for your stay, so in those terms, it is the same as booking directly with the hotel.
Complimentary daily breakfast for two is included. To give you perspective, breakfasts at resorts in the Maldives could be upwards of USD 30 per person, when not included in the room rate.
An exclusive amenity such as a $100 credit, free spa and so on.
Room upgrades subject to availability, or in some cases, even on booking.
Early check-in and late check-out. This can be very handy if you are travelling with family and arrive early or have an evening departing flight.
If you are still planning your New Year getaway, then here are some resorts you can book in the Maldives and save.
---
While comparing rates for the Taj Exotica Resort & Spa in the Maldives, the Virtuoso rate during the New Years is USD 1432 (INR 1,05,555) cheaper. Not just this, one of the Virtuoso benefits is complimentary speedboat transfer to the airport which otherwise costs USD111/ INR 8,200 per person when you book for a minimum of three nights. Not just that another USD 200 (INR 14,700) credit towards F&B and Spa. Therefore by booking the Virtuoso rate, two people on a three nights stay will save ~USD 1,750 (INR 1,30,000). That's significant!
---
Located amid rainforest and white-sand beaches on an exclusive private island, The St. Regis Maldives Vommuli Resort is one of Marriott's most coveted resort properties in the Indian Ocean.
With benefits such as complimentary breakfast for two, a welcome bottle of Champagne, USD 300 (INR 22,000 credit)  and a couple's complimentary spa experience the value of booking a stay at this resort via Classic Travel is easily over USD 500/ INR 37,000. Not to miss that you also get to earn Marriott Bonvoy points and elite night credits on this booking.
---
For those looking for a boutique property, Joali is located in the Raa Atoll, which is one of the largest and deepest atolls in the world. This beach resort is lined with white sandy beaches and coconut palms, and one can choose from a variety of villas and residences.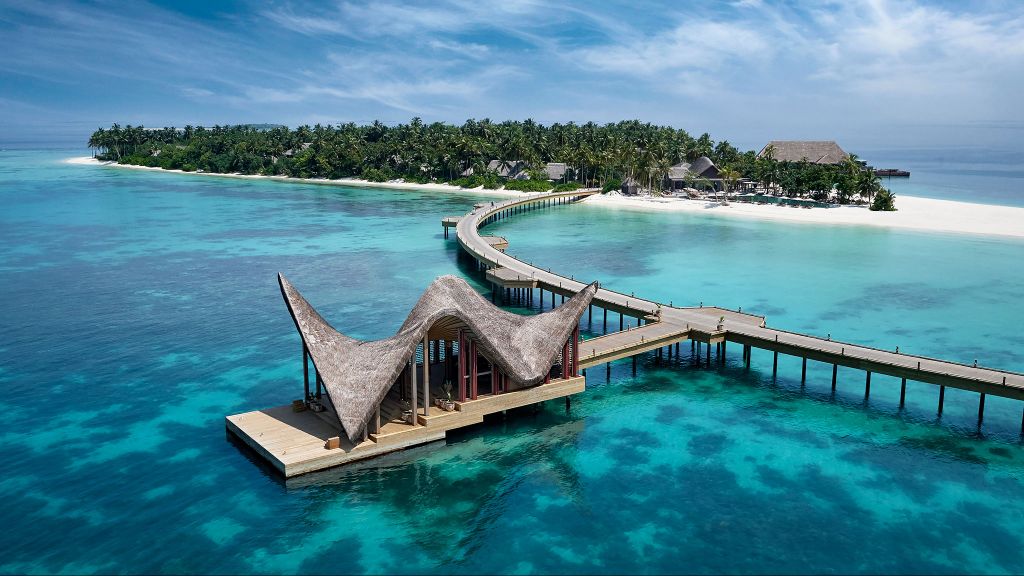 Virtuoso rates via at this resort get daily free breakfast for two and a USD 150/ INR 11,000 F&B credit during the stay.
---
But that is not all, there are over 20 luxury resorts in the Maldives, which include those with tie-ups with Virtuoso or special VIP rates from Hyatt Prive, Marriott Stars, Four Seasons Preferred Partner rate and so on. Each of these come with their preferred rates, which don't just allow you to earn points if applicable but enable you to get a free upgrade, free hotel credits and other benefits, not usually available without a luxury travel advisor. If you need help with your booking and need to talk to a human, drop Ajay or me an email, and we will direct you in the right direction. Also, remember, these rates are available for everyone, so you can book them for your holidays to the Maldives from any part of the world.
Are you heading to the Maldives for a holiday soon? Do share where are you headed out to and if you got yourselves one of these exclusive rates.