Air India, the biggest International Carrier from India, has been laying down plans to get even bigger by the day. Even though the US operations of the airline have been loss-making in the past, it is betting big on the Electronics Ban to expand, hoping that they will be able to charge the non-stop premium to India now and bypass the transition via the middle-east.
Air India launched Delhi – San Francisco 3 times a week in December 2015, and then doubled frequency to 6 times a week in November 2016. They started a fifth freedom flight between London and Newark, by launching an Ahmedabad – London – Newark flight. They launched flights to Madrid as well in December 2016 and took over the Delhi – Vienna flights from Austrian. I'd say that is a spectacular show given they are going in all directions.
We earlier wrote about the Air India flight to Washington DC from Delhi. This is going live on 7 July 2017 and is already up for sale on the Air India network. The flight will be 3x per week to start with.
Now, yesterday, the head of Air India gave further insight into the plans of the airline for the rest of the year. Some of it was already known, some of it is new. On his Facebook account, he enlisted these thoughts.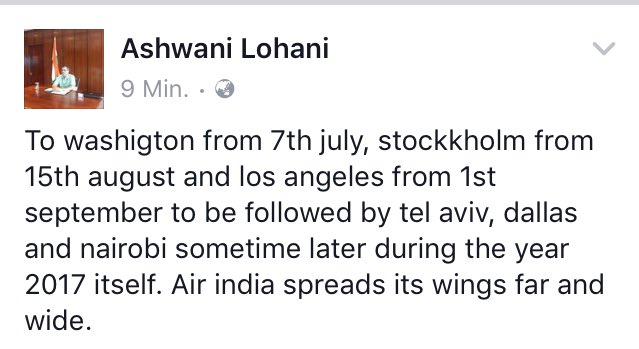 Like you can see:
Washington goes live on July 7
Stockholm on August 15
Los Angeles from September 1
Further, later in the year
It seems their plans to go to Israel have been delayed. It was supposed to start in May 2017, and now, the Hindu Businessline reports:
Multiple officials confirmed to BusinessLine that the launch of the direct service has been delayed as the United Arab Emirates, Iran, Saudi Arabia, Pakistan and Afghanistan, among others, have declined permission for the state-owned carrier to overfly their air space en route to Israel.
But there is no mention of Copenhagen here, which was a committed flight for later this year. Earlier the carrier was having a hard time deciding between Copenhagen and Stockholm, and then Air India announced a Copenhagen service. So I wonder if this is news that the service has moved to Stockholm or is it a mixup.
Either ways, the airline is investing significant resources in being the only Indian carriers to go across the world, and provide non-stop connectivity. I appreciate that, and I hope you do too!
Do you think this significant international route network would make AI profitable in the years ahead?